We build, design
e-Commerce websites and platforms
Are you looking to build a new online store or to take your existing e-commerce business to the next level? Our team of experienced e-commerce professionals is here to help.
Our services for e-commerce
Our websites are UX and Sales oriented
For over 10 years we implement websites that are used by hundreds of thousands of people every day. With this experience and knowledge, we understand very well the aspects that determine a good, useful web design.
Our team has extensive experience and a process developed over the years to carry out the creation of a new website for your company from A to Z. We use MoSCoW for developments.
Our websites are UX and Sales oriented, it is not only the appearance of the website that counts, but also its usability. Your company's website is not only a showcase on the Internet, but a tool for earning money, and this is the most important thing we follow.
What's more? We are focus on User-Centricity
User-centered design, or UCD for short, is a breakthrough for product teams. UCD forces stakeholders to delve into the needs, feelings, beliefs and habits of their users, and then to create a valuable product that suits them. Result? You show your users that you care and you understand them, and they'll love you for it.
We design websites so that from the user's point of view they are fully practical and ergonomic.
We also make web design with the accessibility standards. Our solutions make publications on your site accessible to people with perception, cognitive, hearing or vision impairments.
We build websites based on WordPress and technologies like HTML and Vue.js
One of the world's most popular content management systems, WordPress is used by 42.8% of the top 10 million websites in October 2021 according to BuiltWith and W3Tech. Worldwide, WordPress websites are used by more than 80 million users. Even the official White House website is also based on WordPress.
WordPress was originally created as a blog publishing system, but has evolved to support other types of web content, including more traditional mailing lists and forums, media galleries, membership sites, learning management systems (LMS), online stores and even social media platforms.
What's more, and why WordPress in particular?
Its main advantage is its simplicity and intuitiveness. It is a technology that is used to create professional news sites, blogs and sites for any purpose.
The popularity of the platform increasing accessibility and constant development, updates to the platform allow it to keep up with developments in web technology and security. More importantly, Google likes WordPress a lot!
You may be wondering why websites around the world are so eagerly created on WordPress and why it is a good solution. Using WordPress means a lot of flexibility and a wide range of possibilities to expand your site.
WordPress is recommended by our company for any user who wants to create a website quickly and easily with our help
We have been doing projects based on CMS WordPress for more than 10 years and have implemented more than 300 websites on WordPress.
We build websites based on WordPress and technologies like HTML and Vue.js
We create and design responsive websites and online stores adapted to mobile devices. We use Responsive Design or "Mobile-design first" technology to design websites and online stores.
What do you need to know first of all?
The percentage of global internet traffic on mobile phones has increased over the past decade. As of May 2022, 58.26% of all internet traffic came from mobile phones.
So, if you have a website, and it is not adapted to mobile devices, and the data speaks for itself, you must also take into account the new Google algorithm, one of the factors of your position in Google is having a responsive website.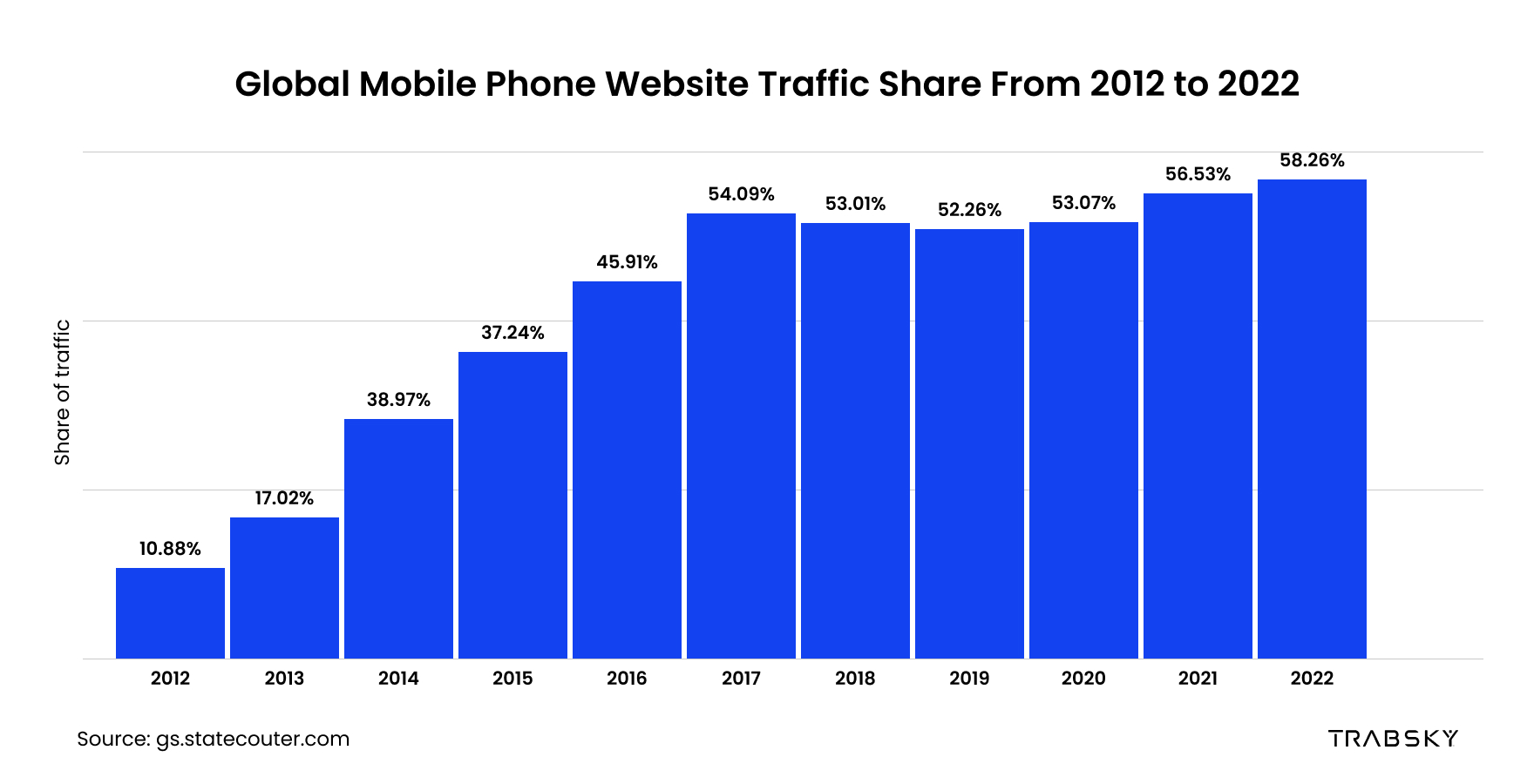 We build website with consistency
We build website with consistency, which is a key element in web design for both visuals and functionality. It ensures that your website looks consistent and works harmoniously in all its all elements. It is also:
provides users with a more positive experience
enables users to complete their tasks faster and more efficiently
improves the usability and ease of learning of your website
eliminates pain points and obstructed navigation
saves money and time on design
Why it is so important? Navigation elements offer users a roadmap to all the different areas and information on the site. To be effective, navigation should be clear and consistent throughout your site. Thanks to well-designed navigation visitors are able to navigate easily between pages and always know where they are. Difficult site navigation may lead them to leave your site = less customers.
Page layouts and menu structure
It's a good idea to use templates to create a common page layout throughout your site. Create seamless transitions between pages by placing consistent elements on each page.
We encourage our clients and advise them in the first place to be guided by their choice taking into account the sales factors for example by placing any marketing communications and calls to action, such as a newsletter subscription, special offers, or discounted products or services. Place them in a prominent place as positioning can improve customer response rates  = more customers.
Copywriting & Translations
We perfectly understand how companies operate and what problems they face when preparing a new offer, rebranding, changing the website or organizing the current offer in order to increase sales and ease of use.
It turns out that one of the most difficult challenges that we will lead your company through is creating texts, content and collecting audio-visual materials.
In our copywriting offer, we will prepare content in accordance with the art, trends of keywords and the changing Google algorithm.
We do everything in accordance with the requirements for search engine optimization of the website and its results.
Contact us for more details.
We build websites
with technologies like
Highlighted services
for e-commerce
Some of the possibilites
for your online store

OMNIBUS Compatible
Our e-stores are aligned with new requirements in EU e-commerce regulations starting January 1, 2023.

GDPR Compatible
Our e-Stores comply with regulations for compliant processing of personal data under local law.

Sales solutions
For each page, we select the right tools and elements for effective user-to-customer conversion.
Verified
competencies by online webstores
TRABSKY has been verified by , as a Partner in the area of DevOps. This distinction is confirmation of our competences in the following areas:
Let's talk about your need.